About the Apple Watch Series 7
Apple Watch features the always-on retina display and comes up with a circular design. The watch is famous for providing you with great convenience by remaining charged for a longer duration and also has high durability in the market so you can expect to purchase it for only $399. Remember that the Apple watch is available in a variety of versions and the one that you should select depends on how you want to use that particular watch. For example, you can proceed with a more expensive version if you need an Apple watch as an accessory for your iPhone while if you are curious about your physical fitness and time tracking you can use the watch that is comparatively less expensive.  
 
It is no secret that some Apple watch models are even better than the other ones so the Apple watch can be something that you need to carefully select. However, remember that primarily all the Apple watches are the same and there are no considerable visible differences between different annual refreshers. So we can say that there is always space for becoming the best and the company keeps on launching new series every year. The most famous versions of the Apple watch include Apple Watch Series 3, Apple Watch Series 7, and Apple Watch SE. We can also expect that Apple will soon be going to launch its lightest version of the Apple Watch Series 8. You can always think about upgrading it to the latest model.  
First of all, note that the Apple watch series 7 is the most trending apple watch right now which comes with tracking sensors and FDA approved ECG monitor. Moreover, you will also like its display design and all the other features that make any watch better in terms of quality and durability.   
The few prominent features of the Apple Watch 7 that make it suitable for regular users are that it comes up with a larger display, Qwerty keyboard, and USB C magnetic charger. However, when we see all the Apple watches of different series we come to know that they usually average around an 18-hour battery life. Other features of the Apple watches include large screen responsiveness, large app Libra, fitness tracking features, and Apple Music streaming with LTE. 
 
Design
With an engineered always-on retina display, the latest version of the Apple watch is geared at providing better visual experiences that come with the larger display. Due to this, you can expect that the borders will be thinner and cover only a small portion of the watch. When you observe the corners, you notice that the corners are more rounded than in the previous versions of the Apple watch. Now they seem softer, smarter, and more attractive. You will also notice a unique refractive edge at the display so that you can easily watch faces and applications while staying connected with the curvature of the case.  
Basically, the main purpose of the Apple watch upgrade is to introduce the users to the latest Apple watch with screen experience. The main improvement was created and the display was optimized for series 3. Remember that the watch comes up with the two distinct watch faces. The one is the Contour and the other is the Modular Duo.   
Although the battery life is the same and just 18 hours, you will observe 33% faster charging when you proceed with the Apple Watch Series 7.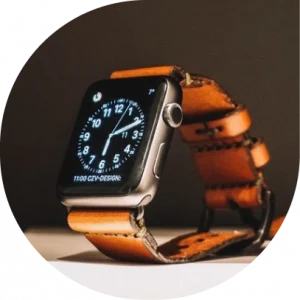 It is evident from the structure and design of the Apple watch that it is the most durable, stronger, and crack-resistant watch that looks equally appealing, effective, and beautiful. So without losing its fantasy the creators have designed it as dust resistant and water-resistant device that gives it great popularity among the users who adore quality watches and want to use it for a variety of purposes such as a fitness tracker, ECG tool, electrical heart sensor health and wellness progress update tool. Moreover, when you can proceed with an application of the blood oxygen sensor and heart activity sensor, you will see that this watch is greatly helpful to stay active.
Now you can easily proceed with your mental and physical workout. As the latest version was introduced in the pandemic, people have used it even more energetically.
They utilized almost all the capabilities including the fitness application and the mindfulness applications. The accessibility features and other features of the Apple wallet are also there that let you proceed with transactions while staying at home.  
 
But this is not the end to the magnificence of this apple watch series 7. It comes up with five beautiful designs. All are aluminium case finishes and provide a variety of colours, styles and shades to the whole structure. So the most important and considerable improvement that you will observe in the design is the presence of the large screen or display that makes it quite an adorable and attractive watch. Â 
Features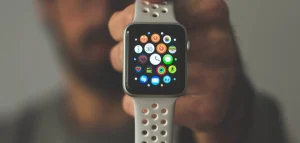 Let's have a look at some of the distinguishing and prominent features of the Apple watch.  
Optimized user interface 
As we have already discussed, the Apple Watch Series 7 comes up with an increased screen area and a larger display with rounded soft, and thinner borders. You can enjoy better functionality while having the innovative structure in your hands. The presence of an always-on retina display in the latest versions keeps the Apple watch optimized and brighter. In this way, you will be able to immediately see the screen and check out the notifications and everything while keeping your face straight. The user interface has been redesigned to make use of the new display's dimensions. The Apple Watch Series 7 contains two new larger fonts, as well as a new Keypad that can be tapped or brushed with QuickPath — allowing users to write by sliding their thumb — and employs on-device algorithms to forecast the next word contextual signals, making input text faster and more accurate. In watchOS 8, larger menu names and buttons in apps like Stopwatch, Productivity, and Alarms make it even simpler to interact with the screen. 
Faster Charging 
As we have already discussed, the latest Apple watch series 7 has come up with the same battery time and we have not observed any considerable improvement in the battery life that we observe after a single charge. However, another latest feature that they have recently introduced into the Apple watch series 7 is that you will observe faster charging up to 33%. Remember that this improvement is comparable with the Apple watch series. You will be able to enjoy improved charging speed when you use the charger that comes with the Apple watch so utilize this new charging architecture and do not forget to connect your phone with the magnetic fast charger USB C cable for the best functionality and for getting all-day 18-hour battery life.  
Workout and health detection updates 
Apple watch has a unique automated system and advanced algorithm that keeps track of all the activities that relate to your mental and physical being. In this way, you can rely on this device to analyse GPS heart rate and other important statistics and data  This application is also used as a workout tool and the fall detection tool that will help you work out by providing automatic calorie burning of their mattresses that will give you insights about how you improved after you first started the workout.  
 
Remember that if you want to accurately burn the calories and get the exact record and data of how many calories are burnt in a particular time, you can consider using an e-bike that comes with a cycling workout algorithm and keeps the record of your GPS and location. It also has access to the heart rate activity that helps it determine the utilization of leg power and other important muscles. In this way, you can enjoy a great workout experience. Moreover, you can also use Bluetooth headphones or Airpod that will keep you updated about the milestones that you cover. You can keep the settings on so that you will be able to keep on checking your activity status and work out with more focus.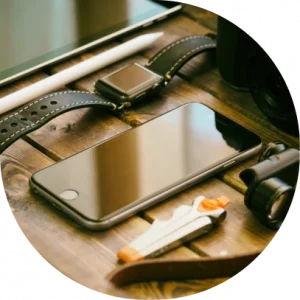 Durability 
When we see the overall vast display screen and the smarter and more sensitive edges, we think about the fragility of the item. However, you will be surprised to know that it is an even more robust, durable, and stronger watch of the Apple series. As we have already discussed that the whole watch is also water-resistant. But to your surprise, you will also be able to enjoy crack resistance features. Moreover, it is also a certified ip6x dust resistance device that can survive very harsh weather conditions. So whether you want to take this Apple Watch to the depth of the ocean or to the sands of the desert you will see that it has maintained its functionality and has even become more shiny and beautiful. If you are a Traveller and want to have an all-in-one tool that does not distract you during your adventures, you should purchase an Apple watch. Till now people have not made any complaints regarding the poor functionality or the lack of all these features. So when we summarize these features, we come to know that the Apple watch is crack-resistant, water-resistant, dust- resistant and has a very well-designed and stronger battery that keeps it working in any environment. Â 
 
Machine learning Technology 
Apple Watch also makes typing easier as it comes with a qwerty keyboard and machine learning technology so that you do not have to write a complete word. Instead, you will be able to anticipate the prediction of the next word based on the context. It is particularly important when you want to proceed with the data entry tasks, text messaging, or any other typing activities. As text typing has been made super easy, you can enjoy better performance and can proceed with your tasks more efficiency. It also has a watchOS 8 system integrated into it. You will be able to enjoy large titles and buttons while utilizing common in-built applications like stopwatches and alarms. Basically, the main purpose of the designers of the Apple Watch is to provide you with the most compatible screen that gives them the convenience of interacting easily. Remember that a display is 20% larger which is also a big plus. Â 
Versus
The comparison of the Apple watch SE, Apple Watch Series 3 and Apple watch series 7 gives us a comprehensive idea of different features. For example, Apple Watch Series 7 comes with a larger display, always on retina mode, and a qwerty keyboard. However, it does not have any improvement in its battery life. Moreover, you will also need to have an iPhone if you want to use this watch for answering calls and for various activities like utilization of the applications from your wrist. It will happen because the watch is hooked up to the USB C to the magnetic cord.  
 
On the other hand, the prominent features of the Apple watch SE include a huge app library, responsiveness, and the presence of a speedy chip that will give you immediate assistance with fitness tracking. Moreover, it also shows its performance quite speedily due to the chip and other safety features. However, you will not be able to enjoy an always-on retina display with this watch. If you are super curious about having the ECG monitor and always-ready option, the Apple SE watch may not seem appropriate to you but it can definitely be a deal-breaker if you are not particular about this feature and are only looking for the application with the comprehensive speedy features and safety features. Note that this watch also comes with the LTE option so that you can easily proceed with the family setup and enjoy it.  
 
Similarly, the Apple Watch Series 3 can also be another option for you. Although it only has 8GB of music storage, you can enjoy 16GB for LTE. The battery life is again 18 hours. If you are in search of the cheapest Apple watch, it should be your number one choice that contains all the exclusive features at an affordable pricing structure. Moreover, people have also rated it as the best fitness tracking accessory that they should keep with them while proceeding with the most affordable pricing structure. It is comparable to Apple Watch 5 and Apple Watch 6, so you do not need to proceed with those expensive versions when you have an all-in-one solution. Another most important reason to purchase this watch is Apple music streaming with LTE. However, the only drawback of this watch is that it does not have an ECG monitor so you will not be able to enjoy an always-on retina display.  
 
From the above discussion, it is evident that it should not be a hard decision for you to choose the most appropriate Apple watch for you. It entirely depends on your affordability, your preferences, your needs, and how you want to use this Apple watch. For example, if you want to present an apple watch as a gift, proceeding with the quality version like Apple Watch Series 7 should be your number one choice. However, it is only possible when you are ready to spend anywhere around $399. Every Apple watch is definitely worth the money as these watches have everything you can expect in quality products.   
Price
The price of the Apple watches entirely depends on which version you choose. For example, the latest version of the Apple watch is the series 7 which comes up at $399 while the most affordable version is the Apple watch series 3 which is available at under $200. The Series 7 version starts at £369 ($399/A$599) and, although being £10 less than last year's Series 6, is Apple's most pricey smartwatch, priced above £249 ($279/A$429) Watch SE. It needs an iPhone 6S or later and is not compatible with Android. 
Summary
In this comprehensive Apple watch review, we have thoroughly reviewed all the Apple watch versions and provided you with insight into their functionality and the upgrades. Picking the finest Apple Watch for you does not have to be a difficult task. In most circumstances, the choice will be between the latest Apple Watch 7 and the Apple Watch SE. If you have $399 to invest on a bigger screen, we suggest the Series 7. However, for first-time users, the Apple Watch SE may be a good option. 
Other News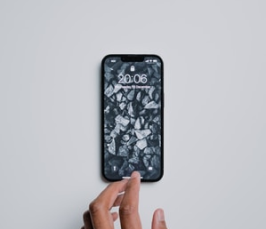 Apple iPhone 13 Pro
Even if it doesn't offer MUCH to justify switching from the iPhone 12 Pro, the iPhone 13 Pro is one of the greatest iPhones in 2021, as you will know in this iPhone 13 Pro review.
Continue reading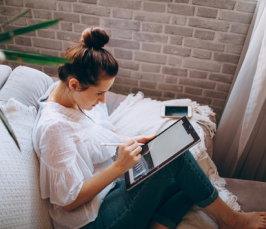 Apple iPad Pro
Whenever you see the 11-inch and 12.9-inch iPad Pro models, you will want to have them in your hands immediately. Now they have become even more attractive choices as April 2201 was the year when various new upgrades were introduced to these iPads.
Continue reading