If you've been on the hunt for the best flip phone in the market, then you're in for a treat. The Oppo Find N2 Flip smartphone is here to blow your mind! With its release, it has made flip phones revolutionise the market – with its convenient design and affordable price, compared to others.
For example, the Samsung Galaxy Fold is an interesting concept, but the problem with the phone is that it is too chunky. Samsung also tried to shake things up with its Flip series, but the phone screen was too small to be useful.
Nevertheless, Oppo has considered these and developed an excellent smartphone you'd love to own. Here's a detailed review of the Oppo Find N2 Flip smartphone!
Oppo Find N2 Flip : Pros and Cons
Huge cover screen in a foldable design offering camera framing and other specific functionality features.

Excellent battery life and fast charging ability.

Unbeatable primary camera and selfie shooter.
Lack of wireless charging.

Lacks 4K video recording using the ultra-wide angle camera.
When your Oppo Find N2 Flip order arrives, you'll notice that it has the same box as its predecessor, Find N2 Proper. The only difference is its size and off-white color. It has the same kinetic design feature that brings the phone closer to you when you open the box.
The smartphone case is pretty unique, with two snap-on transparent plastic covers. The top half of the plastic cover has a seemingly large cutout design for the outer display. Furthermore, the smartphone comes with a 67W adapter for charging.
Design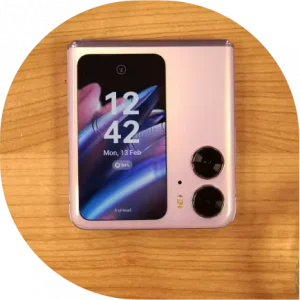 The basic design element of the Oppo Find N2 Flip is the same as other Flip smartphones in the market. When unfolded, its size will be comparable to any standard smartphone. However, when it is folded in storage mode, its size will reduce by half. The obvious advantage that Oppo Find N2 Flip has over other Foldable smartphones is that there is no visible space or gap between the folded halves of the phone.
Another popular feature of this phone that's making quite a few heads turn is its huge cover display which beats most other smartphones in the foldable segment. However, this means that the phone will have a large black screen at its back, which might not suit everyone's taste. Another disadvantage of this oversized display is that your fingers always come in contact with it unintentionally, leading to a smudged display screen.
The Oppo Find N2 Flip smartphone is traditionally available in a Moonlit Purple Colorway. International marketers can get their hands on the black-colored model as well, which has a frosted anti-glare finish.
Oppo's New Generation Flexion Hinge hides the glossy Oppo logo and can support the smartphone at any angulation between 45 to 110 degrees. This makes it easier for you to unleash your inner photographer and take beautiful shots from different angles. A single-handed outward flick of your wrist is enough to Flip the phone; although it might take a little getting used to.
Oppo's greatest achievement with the design of this smartphone is that it sports a practically ceaseless display for a Flip smartphone.
Display
The Oppo Find N2 Flip hits it out of the park with its huge cover display. It measures 3.26 inches diagonally and has a total surface area of 28.4 cm2. The cover display has a resolution of 382*720 pixels in a 17:9 aspect ratio. On the inside of the smartphone, you get access to a fabulous 6.8-inch AMOLED display panel with a resolution of 1080*2520 pixels. Furthermore, it has a standard refresh rate of 120 Hz, HDR10+ support, and a peak brightness of 1200 nits.
This smartphone has a brighter display than its competitors under bright ambient light and is capable of displaying vivid, colorful swatches. The Display Settings allow you to switch between two refresh modes – High (120 Hz) and Standard (60 Hz). That said, certain apps like the Camera and Google Maps will force you to use the 60 Hz standard mode, and the same applies to high-performance games.
Oppo has been everyone's favourite when it comes to the always-on display, and it maintains this position with its latest Find N2 Flip launch. You get access to a multitude of widgets and wallpapers to play with, and auto pixels are a new addition to the package too.
Performance
This smartphone is powered by the robust Dimensity 9000+, which is a high-end Mediatek chipset.
While Oppo has delved quite deep into the design and display of the smartphone, it has not spent much time on its performance. The Mediatek processor is designed to improve battery backup.
If we talk about the performance of the smartphone, then it is equipped to smoothly handle everyday multitasking without breaking a sweat. Furthermore, the smartphone has an excellent 5G performance and comes with NFC support and Bluetooth 5.3.
The phone runs on the Android 13-based Colour OS but doesn't offer any flip-specific modifications.  A major disappointment here is the onboard bloatware on the smartphone, which lets down the overall customer experience.
Specifications
Screen Size –

Main Screen: 6.8 inches, front screen 3.26 inches

Operating System –

Android 13, ColourOS 13

Resolution –

Main Resolution: 1080x2520px resolution, 21:9 aspect ratio, 403 ppi

Battery –  

4300mAh; 44W wired, Reverse wired

Front Camera – 32 MP, f/2.4, 22mm (wide), AF
Rear Camera –Wide Angle: 50 MP, f/1.8, 23mm, PDAF – Ultra Wide Angle:  8 MP, f/2.2, 112˚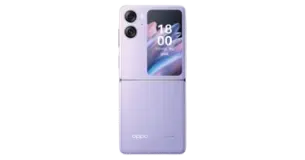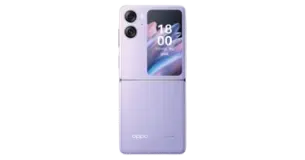 Camera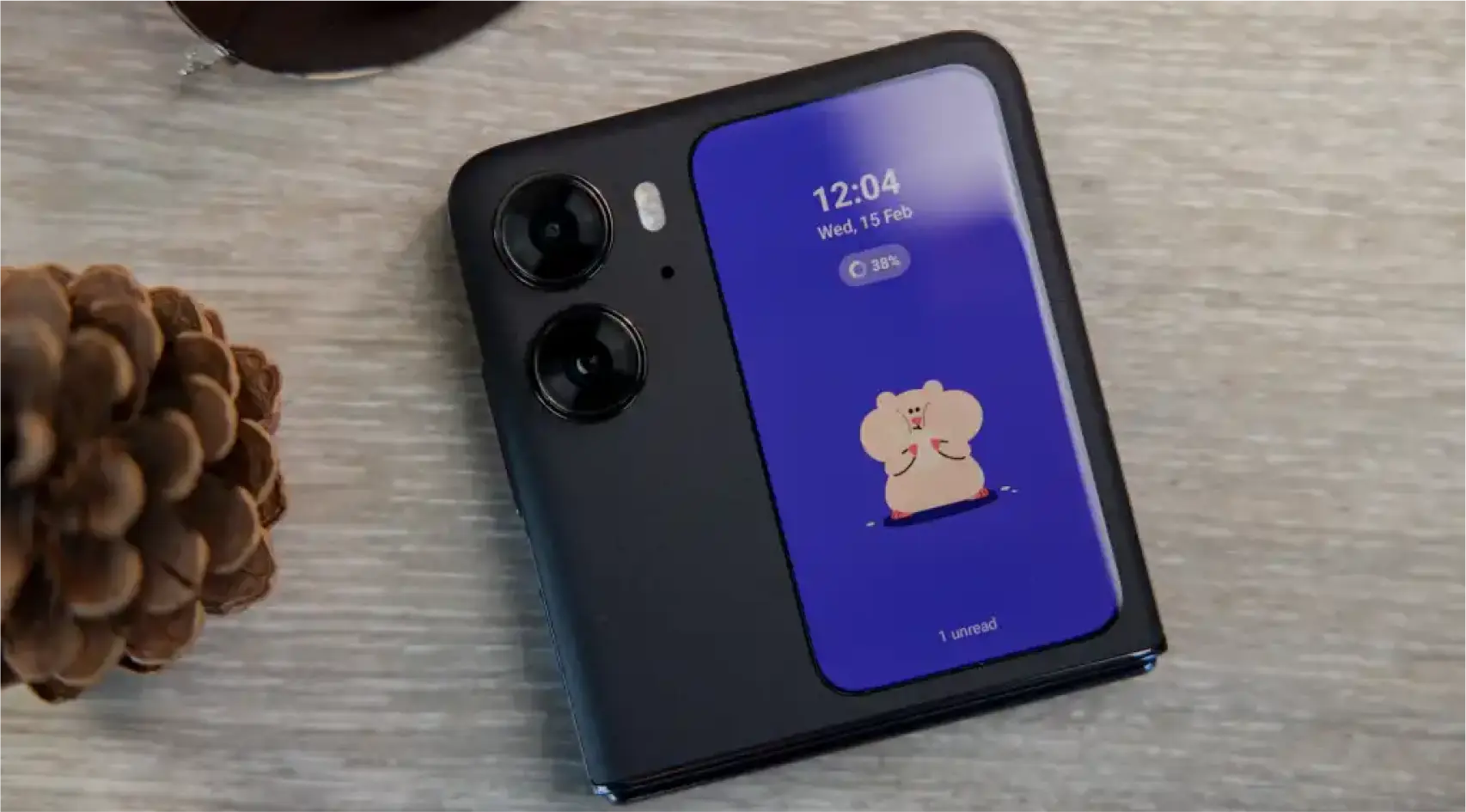 The primary camera on this smartphone has a f/1.8 aperture and an 8 MP Sony IMX355 camera which has a f/2.2 aperture. On the front end, you have a 32 MP shooter equipped with a Sony IMX709 sensor. In non-technical terms, the Oppo Find N2 Flip phone has the most practical selfie shooter in this range of smartphones. Two of the most obvious reasons why this is the case are its tall cover screen and form. The latter offers some significant daily advantages, such as waist-level framing.
With its latest Flip launch, Oppo is also trying to introduce FlexForm mode photography to the market. This mode will offer you multi-angulation photography options while using the primary camera. Furthermore, you also get access to multiple camera modes, including – Panorama, Time-lapse, Film, Sticker, Slo-Mo, XPan, and Text Scanner. Another interesting feature is the Camcorder which allows you to capture videos simply by flipping the phone at 90 degrees.
The selfies captured by the front camera offer beautiful, natural skin tones and excellent detailing. Even the portraits shot using the primary camera offer accurate depth estimation with on-point autofocusing. To further enhance the quality of the videos, Oppo has introduced the MariSilicon X. This feature ensures that the maximum details of your video remain preserved.
Last but not least is the most interesting camera feature – the XPAN mode. This model was inspired by the popular Hasselblad XPAN camera. This helps you to record an ultrawide field of view which is perfect for capturing narratives.
Price
For the UK audience, Oppo is currently offering the Find N2 Flip phone in two primary colors – Moonlit Purple and Astral Black. To get your hands on the industry-leading Flip smartphone with the ultimate crease control, you'd have to spare £849. 
Other News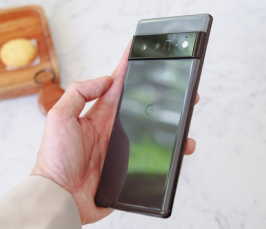 Google Pixel 6 Pro
If you are in search of a Google phone, then the Google Pixel 6 pro has the potential to be the best Android phone available. You will be getting a 6.7-inch display, 12GB RAM, 10 to 120 refresh rate, and 512 GB storage for only around £899.
Continue reading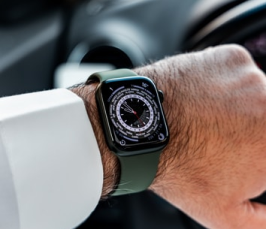 Apple Watch 7
Apple Watch features the always-on retina display and comes up with a circular design. The watch is famous for providing you with great convenience by remaining charged for a longer duration and also has high durability in the market so you can expect to purchase it for only £399.
Continue reading